FOR IMMEDIATE RELEASE
Ottawa-based Koffman Signs Ltd Recognized as "Grimco Gives Back" Sweepstakes Winner Koffman Signs Ltd. donates $500 to Teen Challenge Canada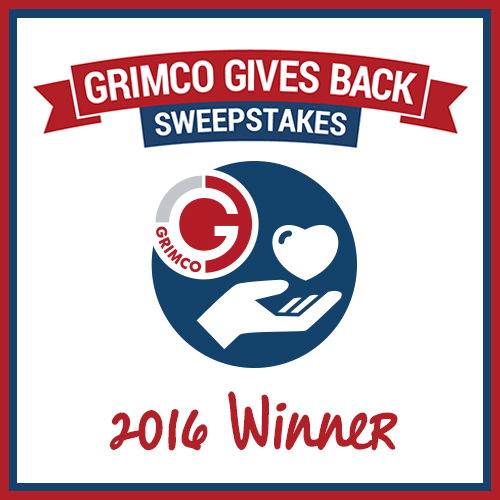 Ottawa, ON - (Oct. 7, 2016) - Koffman Signs Ltd, based in Nepean, has been named one of the lucky sweepstakes winners in a nationwide giveaway by Grimco, a national wholesale sign supply company. In total, 20 Grimco customers were selected as winners through the month of October, each receiving a $1,000 prize. The winnings were split between a $500 allocation for Grimco credit and a $500 donation to a charity of each winner's choosing. Koffman Signs Ltd. has selected Teen Challenge Canada to receive the $500 donation as part of their winnings.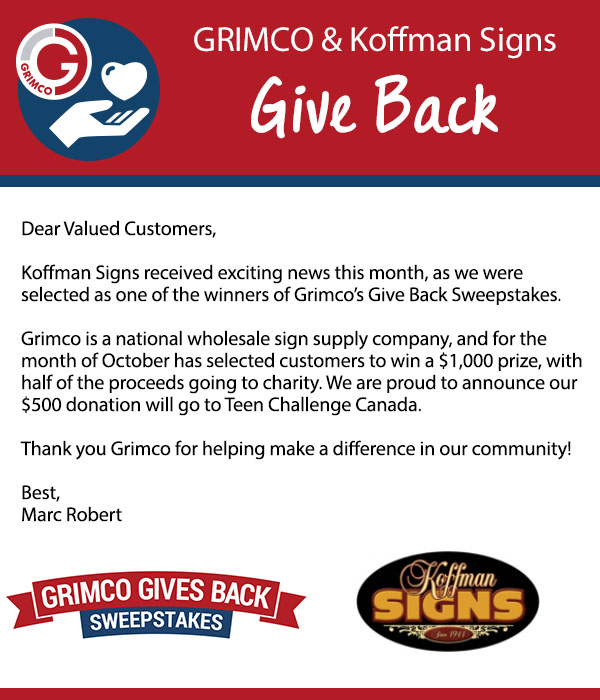 "Koffman Signs Ltd. is thrilled to be selected as one the winners of Grimco's generous national giveaway," said Marc Robert, Owner, Koffman Signs Ltd. "Being involved in our community and contributing to charitable causes that improve lives in Ottawa is extremely important to us, and we are thankful to Grimco for helping us support Teen Challenge Canada."
Teen Challenge Canada is a residential alcohol and drug addiction faith-based program with centres located in Alberta, Atlantic Canada, Saskatchewan and Ontario. We offer help and hope to those struggling with alcoholism and/or addiction to other drugs. Addicts, alcoholics, their family and friends, begin their restoration at Teen Challenge.
"It's extremely important to our organization that we take the time to let our customers know how much we appreciate all that they do on behalf of Grimco," said Mike Bolinger, Grimco Canada President. "During the month of October, the Grimco 'Gives Back' campaign will give away contributions to our customers and the local charities they have selected to support in their communities. We're excited to see the positive impact those funds will make."
For more information on Grimco, visit https://www.grimco.ca.
###