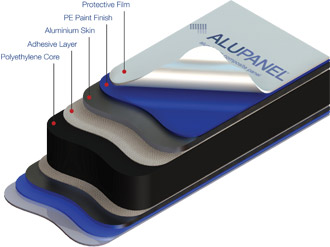 Alupanel is an internationally recognized product providing pioneering solutions to the Sign, Advertising and Construction markets.
In a highly crowded business environment it is vital to get noticed. From eye catching signage, innovative point of sale displays to highly effective way finding solutions, there is only one all round solution – Alupanel is a premium quality composite panel made from aluminum composite materials featuring two 0.30mm Aluminum sheets, sandwiching a Polyethylene core.
Available in one of the widest colour ranges on the market, all standard PE colours come with a 5 year external guarantee*.
*Alupanel is a directional product - please install panels in the same direction (directional arrows are shown on the protective film)
*Brushed and Mirror finishes hold a 5 year INTERNAL guarantee.
Tough polyester paint finish
One side gloss and one side matte
Extensive range of finishes including metallic's and mirror finishes
Both sides are masked for protection from handling damage
12 Standard colors including brushed aluminum
Alupanel can be machined, folded, riveted, bent and more!
Full range of Pantone color available
High impact resistance. Exceptional dimensional stability at extreme temperatures
Excellent UV and corrosion resistance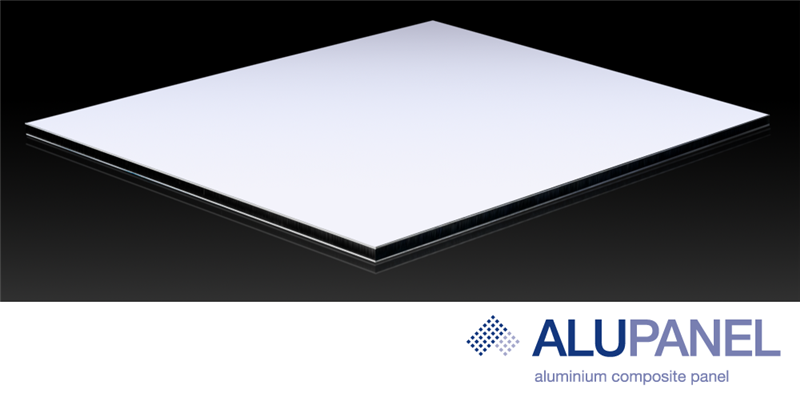 Applications
Sign Making and Out of Home Media
Shop Fitting and Design
Manufacture of Point of Sale Displays
Trade Stand Designs
Transport
Partitioning, Wall Linings and Suspended Ceilings
Industrial Applications
Standard Colour Range
PE Colours
UltraWhite
Light Ivory 1015
Ultra Marine Blue 5002
Traffic Red 3020
Blue 5022
Traffic Yellow 1023
Traffic Green 6024
Burgundy Red 3004
Green 6005
Jet Black 9005
Metal Finishes
Silver 9006
Silver Mirror
Brushed Aluminium
Brushed Copper
Brushed Gold
Brushed Copper Gold
Gold Mirror
Dark Bronze
Brushed Black
Alupanel can also be colour matched to almost any RAL colour - allowing corporate colours to be matched with ease.
Technical Specifications
Panel Thickness (mm)

2
3
4
6
8
Aluminum Skin Thickness (mm)
0.30
0.40
Weight (Kg/m2)
2.9
3.8
4.75
6.6
8.79

Standard Sizes (mm):

1000 x 2440
*
*
1000 x 3050
*
*
1220 x 2440
*
*
*
*
*
1220 x 3050
*
1500 x 3050
*
*
*
1500 x 4050
*
*
2000 x 3050
*
*
2000 x 4050
*
Dimensional Tolerances:

Thickness (mm)
- 0 + 0.2
Width (mm)
± 2
Length (mm)
± 3
Diagonal (mm)
± 5
Thermal Expansion
2.4mm/m @100˚C Temp Difference
Aluminum Thickness (mm)
Where applicable as specified in EN485-4
Surface Properties:

Paint Thickness (micron)
20
Pencil Hardness
>HB
Toughness of Coating
3T
Temperature Resistance
-50˚C to +90˚C
Impact Strength (kg cm2)
50
Boiling Water Resistance
Boiling for 2hrs without change
Acid Resistance
Immerse Surface in 2% HC1 for 24hrs without change
Alkali Resistance
Immersed surface in 2% NaOH for 24hrs without change
Oil Resistance
Immerse Surface in 20# engine oil for 24hrs without change
Solvent Resistance
Cleaned 100 times with Dimethylbenzene without change
Cleaning Resistance
>1000 times without change
Peel Strength 180˚
>5 Newton / mm
Panel Thickness Properties (mm)

2
3
4
6
8
Sound Absorbtion NRC
0.05
Sound Attenuation Rw db
23
24
25
26
27
Water Absorbtion % By Volume
0.01
Thermal Performance R Values
0.0047
0.0080
0.0113
0.0180
0.0246
Core Composition
LDPE
Fire Performance
Class 1 BS476 PT7
Class O BS476 PT6
Tensile Strength
149MPa